The sound of our guitars around the world.
Listen to famous guitarists playing Kohno, Sakura and Kimishima guitars.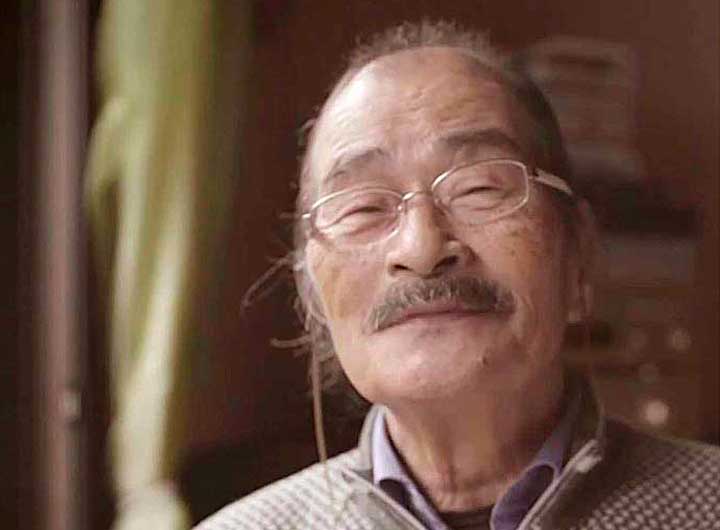 Masaki Sakurai, 2020 Interview
What is your ideal guitar?
Kohno Guitar Manufacturing
Based on an original structural concept and using the highest quality woods, our guitars produce a unique sound and have gained worldwide recognition over the past 50 years by the world's greatest musicians.
Recognized as among the best in the world
Played by musicians from all over the world
Magnificent acoustic in concert halls
Original and unique structural concept
Naturally dried quality wood
Subtle details, perfect finish and artistic value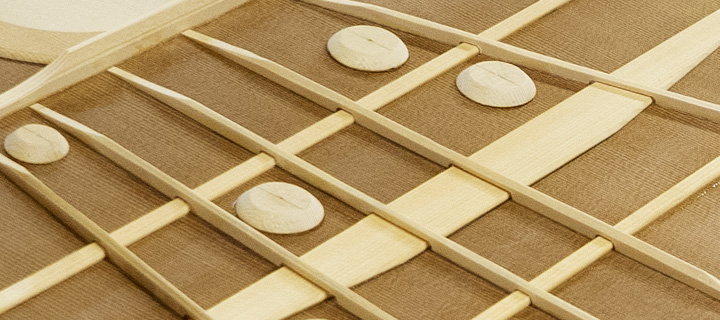 Documentary 2009 (extract from TBS)
A new guitar bracing system
A sound with its unique characteristics and tones

For 3 generations, Masaru Kohno, Masaki Sakurai and So Kimishima have pursued one of the highest ideals:
Our theoretical and scientific research into the soundboard dams has resulted in a sound with unique, rich and balanced tones.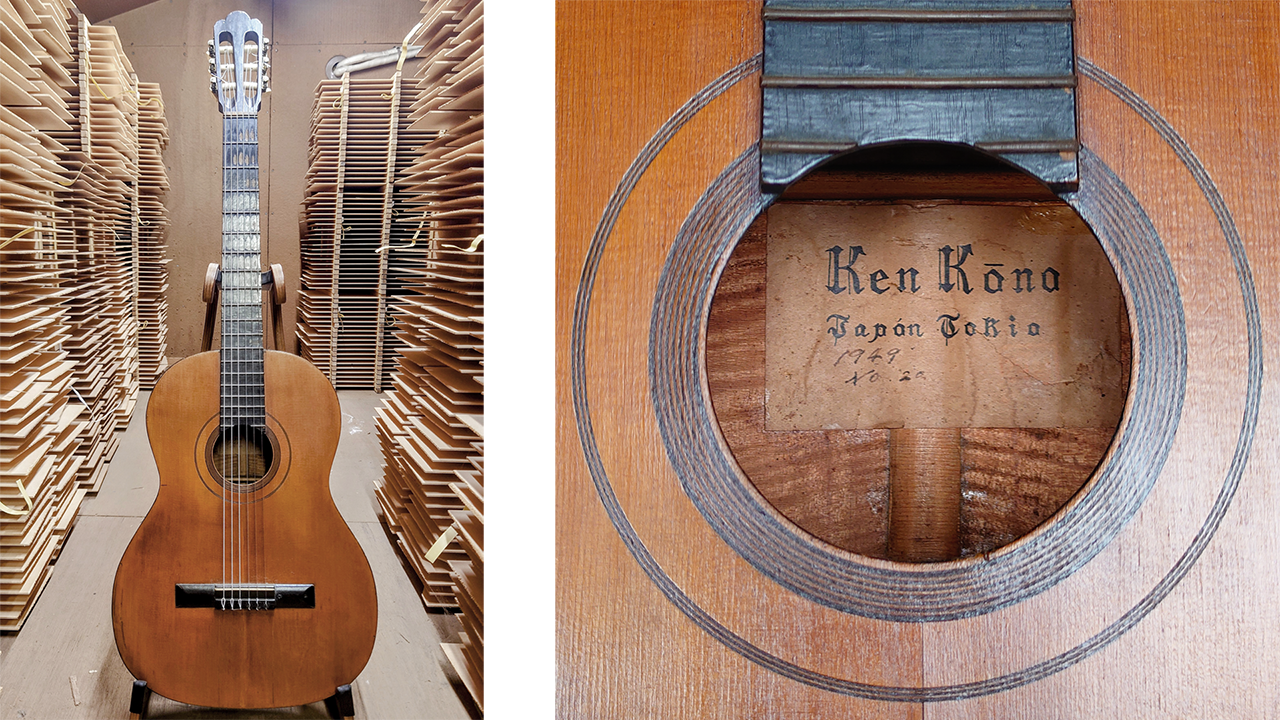 The first guitar made by Ken Kono as his university graduation project.
The label reads Ken Kono.
1949, Ken Kono's first guitar.

Masaru Kohno dedicated his life to creating ever better guitars, from 1949, when he built his first model, until his death in 1998. Masaki Sakurai succeeded Masaru Kohno and created new guitars that will continue to evolve with So Kimishima. The sound, shape and design differ from period to period, but the confidence of the guitarists of each era has helped make Kono Guitar Manufacturing what it is today.
Our philosophy
Constantly evolving while respecting tradition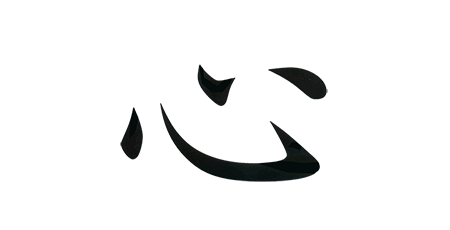 KOKORO
HEART
A guitar reflects the spirit and lifestyle of a luthier whose skills and spirit are inextricably linked. We passionately develop our knowledge and skills day after day to create guitars that musicians will make their own and that will sing in their hearts and in the hearts of their listeners.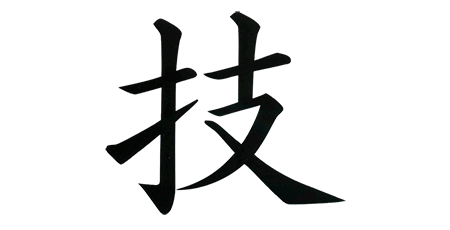 WAZA
CRAFTSMANSHIP
A guitar made with traditional and technical skills, meticulous from the selection and seasoning of the wood to the making and finishing, is of high quality.
We are constantly striving to offer something new and make comfortable guitars that are a pleasure to play.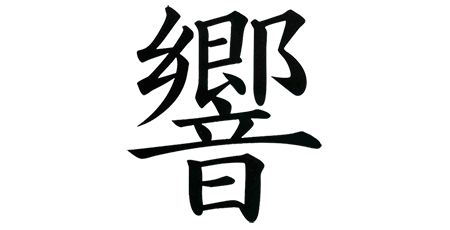 HIBIKI
SOUND
The quest for perfection opens the door to a world of sound rich in expression. We are constantly investigating the influence of wood structure and quality on the sound.
Our uncompromising commitment allows us to create guitars that stir the souls of everyone.
3 GENERATIONS OF LUTHIERS
Masaru Kohno is one of the great names in guitar making.
A graduate of Tokyo College of Arts and Crafts, he began making guitars in 1949. In 1960, he decided to spend 6 months in the workshop of Arcángel Fernández to better understand the Spanish tradition and to perfect his skills. He gained worldwide recognition in 1967 when he won a gold medal at the Elizabeth's Concourse international guitar making competition in Belgium. The jury included Ignacio Fleta, Robert Bouchet, Joaquín Rodrigo and Alirio Díaz.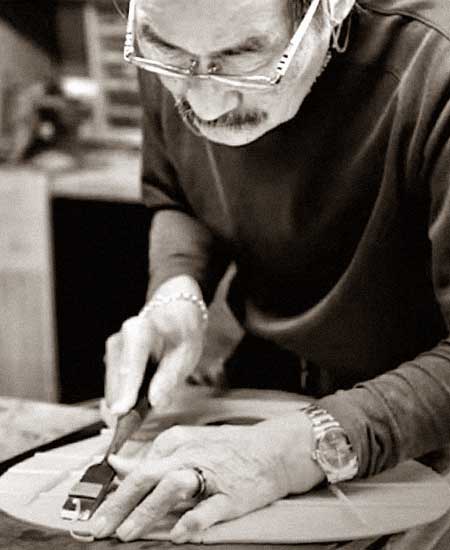 Masaki Sakurai, nephew of Masaru Kohno, studied electrical engineering at Sophia University and became part of Kohno Guitar Manufacturing in 1967. In 1988, Masaki Sakurai won the prestigious first prize at the International Paris Guitar Making Competition. Masaki Sakurai, after studying the importance of the soundboard on the sound of the guitar, created a new bracing system. Masaki Sakurai's guitars are of impeccable craftsmanship and are known for their easy playability and great volume of sound.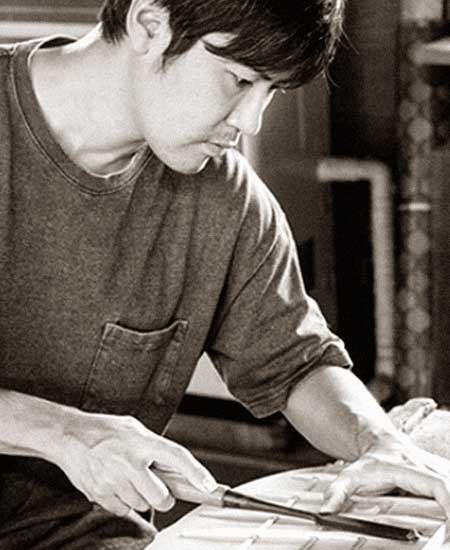 So Kimishima is, on his mother's side, Masaru Kohno's grandson and has worked with Masaki Sakurai for 15 years.
Masaru Kohno said he experimented with everything he could think of and made as many prototypes as possible to understand how to make a guitar sound.
In 2021, following Masaki Sakurai's approval of the quality of his work, So Kimishima decided to create his own guitar models. Kimishima benefits from the research and experience of Masaru Kohno and Masaki Sakurai to continue the quality of their guitars but also to challenge new techniques and develop new models. Kimishima pays particular attention to detail and finish.